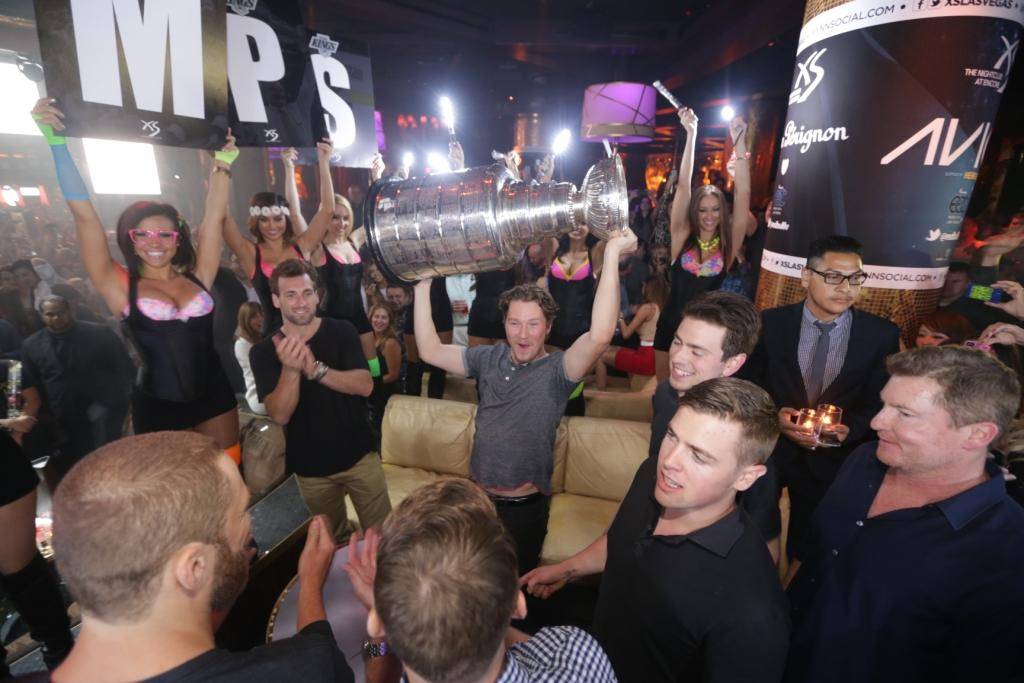 So, if you follow my Twitter feed (
hint hint
), or at the least have stumbled upon this site in any fashion, you know I am a fan of the Los Angeles Kings. If you have followed hockey at all in the past month, you know the Los Angeles Kings won the Stanley Cup, and are the champions of the National Hockey League. As noted earlier,
that's pretty cool
, and your favorite team in a sport winning a championship is something everyone should experience. I'd recommend it.
At the risk of getting weepy to, presumably, Kansas City hockey fans on a Kansas City hockey blog about a team in Los Angeles, seeing the pictures of the Kings parade and rally make me long for a similar parade and rally to attend in my own backyard. You, oh wise and wistful Kansas City sports fan, will say, "but the Royals had a parade in '85," and, "just wait, the Chiefs/Royals will be holding a rally soon enough!" And that's all fine and good, especially since any success from these teams would be small payback for years and years of crushing disappointment. Winning a championship and giving us a reason to celebrate something,
anything
, is the least they can do.
While any potential celebrations are welcome, the Stanley Cup brings a certain level of mystique and legend with it as it makes its appearance every summer. No, hockey is
not better than any other sport
, but you can't drink out of the O'Brien
NBA championship trophy
. The Lombardi Trophy begs you to
give it a nice throw
. And if you handle the Commissioner's Trophy (MLB) too harshly,
pieces of it might fall off
.
The Stanley Cup
, on the other hand, has been drop kicked, urinated in, pooped in, had children bathed in it, slept with, licked, eaten out of, bent, burned, left, sunk, and stained, just to name a few instances. The Stanley Cup is "The Most Interesting Man in the World" without the pretentious sense of self-worth, because the most interesting man/trophy in the world does not need to tell you it's interesting. The Cup has travelled, and been to most of the towns where the names of all of those guys inscribed on the sides of it have lived. The Cup has stories, because it's not just an award for athletic achievement, but encapsulates the teams it represents. Point to a single name, and you have a story. Maybe it's a typical, run of the mill, day with the Cup story – you are bound to have a few of those over one hundred years. But, some of those stories you remember an entire team or franchise. The Islander, Canadien, Oiler, and Maple Leaf dynasties, the Flyers teams of the '70s, The first Cup in Florida, the first Cup in Southern California. And the list, literally, goes on and on and on.
Just take a look at what "non-hockey town" Los Angeles was able to throw together for a Stanley Cup victory parade on a Monday afternoon.
And the second victory parade through beach neighborhoods:
And the 2012 parade:
And, hell, just look at Chicago's Cup rally last year, their second in three years:
If calling in sick to work to join a mob of thousands of people celebrating doesn't bring a city together, then who knows what else will.
Oh, maybe the mayor of the city being so excited he willingly – and calculatedly – swears (gasp!) during his victory toast in front of thousands of wild fans.
That was a long-winded way to get to the main point, which is this is not another post about why Kansas City should have a hockey team (although, yes, it is), but a look at what the Cup does to a particular city. The Cup makes the rounds, compiles stories, and causes political figures to actually display some genuine emotion. And the crazy thing is that it's only a trophy. It's just an object, but an object that has transcended the sport itself. It's a showpiece, a conversation piece. When it shows up to a rally, or an arena, or a talk show, or a bar, or a player's house, so do the people. To see it, to hear the stories, to make new stories.
If you like to listen to hockey podcasts, and do not mind listening to a Kings podcast now and then, I would recommend
Jesse Cohen's
All the Kings Men podcast
. On a recent episode, he's asks Kings blogger
The Royal Half
what he would do on his day with the Cup if given one. Though the only correct answer is
GET WRECKED
, it's certainly not an easy question to answer. If you had a day, what would you do?
Kansas City will not have an NHL franchise any time soon. But, in our part of the world, what would Kansas City do with the Stanley Cup? For just one summer? Where would the Cup go? The Plaza? Power and Light? Prairiefire? It would make the rounds, for sure. But, any city does not need an NHL franchise to enjoy the Cup, the legend, the stories. Winning a championship
is
an added bonus. With your team, your city, your players. I have a story about talking to James Shields outside of a local bar late one night. He seemed like a really nice guy. That makes me cheer for him. But now it's personal.
So, it's not easy watching your favorite team celebrate in another region of the country or another part of the world. You want to be right there to celebrate with other like-minded folks who have similar stories to share and line the parade route like a bunch of belligerent soccer hooligans. To personally cheer on the players, coaches, and personnel you foolishly support for the silly achievement of saying you have always been a fan, wearing team paraphernalia out in public, and giving that satisfied nod of approval to anyone you see doing the same.
Kansas City hockey fans are a mishmashed group. Blues fans, Blackhawks, Red Wings, Rangers, Sabres, Avalanche, Kings, etc. But, above all,
h
ockey
fans
. A day with the Cup would be great, but one preseason game per year allows us all to come together for one night for the purpose of supporting hockey in Kansas City. For the time being, that's our rally, and, hey, all things considered, that's pretty cool too.
That said, ughhh,
Blues-Stars.
* * *
Oh hey! Visit this site, because I'm updating it as fast as I can and it's such a great feeling to be able to do so.